We all know that the sun is a bit of a frenemy – after all, without it we wouldn't be here! The sun regulates our moods, provides us with vitamin D, and even has been shown to reduces stress levels. And yet, the sun can also be harmful to your health if you don't take precautions against overexposure.

The best way to do this is by wearing a sun protection scarf or another type of head covering when outside for long periods of time. Learn more about how these scarves work, how to choose a solid sun protection scarf, and which ones are recommended below!
What to Keep in Mind When Choosing a Sun Scarf
Length. Consider how long you'll want your sun scarf to be. Are you looking for a traditionally-style long, flowing scarf that wraps around your neck and hangs down your body? Or are you looking for a shorter-length scarf that simply covers your neck and little else?
SPF Rating. You'll want to make sure you're choosing a sun scarf with a high SPF rating. It is best to choose a scarf that has an SPF rating of at least 30 or higher! This will ensure your neck is properly protected.
Scarf Color. The color of your sun scarf may also be something to consider. While black, grey, and white are all common colors for sun scarves, keep an eye out for scarves with bright, unique colors and patterns if you want to stand out!
Materials & Fabric. Look for scarves made from lightweight materials, especially if you'll be wearing your scarf often during hot summer days and nights!
Multi-Purpose. Some sun scarves can also double as a head wrap/shawl for chillier weather. If you plan on only wearing the scarf in warmer weather, this may not matter much to you. But if you'll be wearing your scarf across a variety of climates, consider whether or not you'd like a scarf that can double as a face mask or shawl!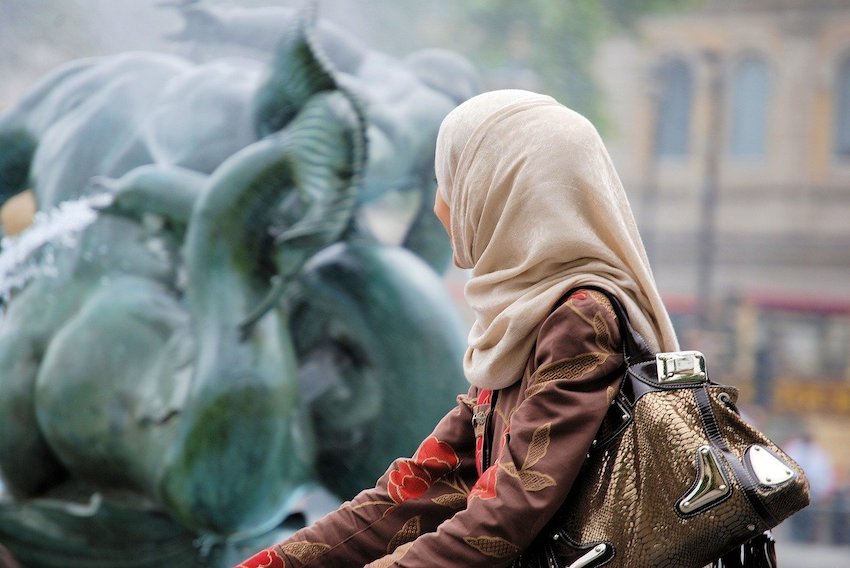 1. Coolibar UPF 50+ Women's Sanibel Everyday Beach Shawl
The Women's Sanibel Beach Shawl from Coolibar is an excellent layering accessory for any woman who wants to protect herself from long-term side effects of being out in the sun too often.
Unlike some other scarves, the Sanibel has a large surface area, providing skin coverage that can be paired with any type of swimwear.
The Sanibel can be worn around your shoulders, or draped around your neck. It's made of a lightweight fabric composed of a bamboo/spandex blend that's machine washable and boasts a 50+ UPF rating.
With Coolibar's unique ZnO material, it manages to be incredibly soft against the skin while offering a cooling sensation.
2. Coolibar UPF 50+ Men's Women's Virasana Performance Sun Bandana
The Coolibar Virasana Sun Bandana isn't categorized as a scarf, but it falls into the same category considering the neck area it provides coverage for.
Made with Coolibar's Coollect™ fabric, it prides itself on advanced moisture-wicking technology to provide a cooler, drier, more comfortable workout or exercise routine.
This bandana is designed to be versatile, as it's able to double as a head wrap, face mask, or neck band. It also comes in 10 different fun colors and even a few bright patterns. And when it gets dirty, you can toss this bandana in the washer as it's machine wash safe!
3. Coolibar UPF 50+ Women's Bhakti Sun Shawl
The Bhakti Sun Shawl is another scarf-style protection layer from Coolibar. The scarf is made with Coolibar's "Active Athlon" fabric, taking advantage of Coolibar's exclusive Cooltect™ technology to improve moisture-wicking properties.
Soft, lightweight, and UPF 50+, this scarf measures in at 72″ x 27″, allowing it to be worn in a variety of ways based on what areas of your body you want to protect from the sun. And yes, this scarf is also machine washable and can be dried on a low setting.
The Bhakti scarf comes in 12 colors, with some unique shades like Rhubarg Stripe, Blue Heather, Black & White Stripe, Lavender, and more!
4. Luv Bug UPF Towel & Wrap
The Luv Bug Wrap is an impressive all-in-one item that's perfect for those looking to cover up on their next beachside vacation. It can function as a beach towel, scarf, and cover-up, all while boasting a UPF 50 rating!
This scarf and towel combo measures in at 40″ x 58.5″, allowing it to work great as a pool towel, blanket, or a wrap. It can be worn in multiple ways around the neck, arms, and shoulders, providing skin coverage when and where you need it.
With a high UPF rating of 50, this soft sun protection material is sand-free as well as water absorbent! It also comes in a host of colorful patterns and designs.
5. Running Mask Neck Gaiter Face Scarf Bandana
The Koolsen Running Gaiter Scarves are a versatile piece of headwear, able to serve as a scarf, mask, bandana, headband, or hood depending on how you'd like to wear it.
The gaiter scarves are made out of quick-dry, breathable material that works well for exercise or relaxing by the pool. They also feature a drawstring adjustment closure that allows you to fine-tune the tightness of the neck gaiter for a perfect fit. Plus, it boasts reflective accents that can improve your visibility at night.
While gaiters are often a favorite piece of sun protection clothing for fishermen, they can be helpful for anyone looking to protect their face and neck area from UV rays.
They come in a variety of pack sizes, with three basic colors: black, grey, and white.
6. Roll Up Wide Brim Sun Visor UPF 50+ UV Protection Sun Hat with Neck Protector
While quite different from a traditionally styled scarf, the iHoney Roll Up Wide Brim Sun Visor offers all the same coverage and protection a scarf does, along with the benefits of a sun hat!
This ultra-versatile sun hat has a UPF 50 rating and features a decorative wrap that can be adjusted in a variety ways – you can wear the attached material as a headband, a scarf, or a visor.
Plus, the entire hat is foldable, making it just as portable as a standard scarf, but with additional head and face protection from the sun!
---
Sun scarves allow even sensitive-skinned individuals to enjoy time outdoors without worrying about sun damage. Sun scarves allow for protection of the neck area, but many scarves can also be utilized as shawls or wraps for even more coverage.
What's your favorite way to protect yourself with a sun scarf? Any favorite styles we missed? Share your thought