Sun protection doesn't have to involve sticky sunscreen – cover-ups can work just as well.
Whereas sunscreens can be messy, smelly, and may contain toxic chemicals that are harmful to the environment, sun shawls have none of those drawbacks!
Sun shawls can be tossed in a beach bag or packed away in a carry-on duffle for travel without a second thought, taking up minimal space since they're so lightweight.
Plus, they can be worn in several different ways, allowing for tons of versatility whether you're covering up your bare shoulders to enter inside a foreign temple on a travel vacation or draping it over your head to protect your face at the beach.
In this article, we'll dive into how to choose an appropriate sun shawl while highlighting some of the best options.
Things to Consider When Choosing a Sun Shawl
Let's explore some of the key factors to consider when choosing a great sun protection wrap or shawl:
Size, Length, & Shape. Many sun shawls come in a single one-fits-all size – these shawls tend to be large, square, blanket-like materials that drape around your body. Other shawls that have built-in sleeves may have a couple more size options to choose from.
Color. Sun shawls can come in a variety of different colors and patterns. If you are looking for a sun cover that will match all of your clothes, opt for a neutral color. If you want to stand out, brighter colors or fun patterns may be better, depending on your taste in fashion.
UPF Rating. Since the goal is to protect yourself from the sun, you'll want a sun shawl that boasts at least a 30 UPF rating or above. Most of the shawls listed below are 50 UPF or higher, so you shouldn't have to worry!
Fabric Material. Sun shawls can be made from a variety of sun-blocking materials. Many fabric choices include polyester, spandex, and bamboo – consider which materials will be the most comfortable for you. Many shawls are also imbued with ZnO – a type of fabric that is infused with zinc oxide for even better UV blocking abilities.
Ways to Wear It. Some sun shawls are specifically designed to be worn in a variety of ways, allowing the shawl to also function as a scarf, wrap, sarong, head cover, or blanket.
Best Sun Protection Shawls & Wraps
1. Coolibar UPF 50+ Women's Sanibel Everyday Beach Shawl
Bold and colorful, the Coolibar Sanibel Everyday Beach Shawl has a UPF 50+ rating that blocks 98% of UV radiation with its bamboo/spandex blend material. This shawl boasts ZnO fabric, with zinc oxide-infused material that boosts the UV blocking capabilities while staying lightweight and cool.
Best worn as a shawl or tied around your waist like a skirt, at 72 inches (183 cm) long this shawl can cover a large portion of your body for great sun protection.

Plus, this shawl can be packed down to nothing, making it perfect for on-the-go travel when you might need to cover up quickly when entering restricted religious zones. You could even use this shawl as a small blanket when it gets chilly out.
This shawl offers 10 different color and pattern options and is machine washable for quick and easy cleaning.
2. Coolibar UPF 50+ Women's LumaLeo Sun Shawl
The Coolibar LumaLeo Sun Shawl is a gorgeous sun wrap garment that comes in a variety of deep, striking colors.

It provides UPF 50+ protection and is made from a super soft blend of organic cotton, naturally sun-blocking bamboo, and a hint of spandex with zinc oxide infused, allowing for fantastic sun protection.
This stylish sun shawl boasts a high collar, full-length sleeves with thumbholes, and overlapping slit details in the back to reduce chafing. It's also machine washable and can even be dried in the dryer on low.
Coolibar is one of the best UPF clothing brands out there, so you know you're in good hands! While this shawl is ideal for running errands or dinner on the patio, it's not designed for swimming, as it's not chlorine and salt water resistant.
3. Coolibar Women's Railay Everyday Beach Sun Wrap
The Railay Everyday Beach Sun Wrap from Coolibar offers a shawl with large, oversized sleeves and beach-friendly colors. The shawl offers 50+ UPF protection along with zinc oxide-infused ZnO fabric that stays cool and feels light against the skin.
This wrap's design features a loose, flowy silhouette shape that looks great on a variety of body types. The shawl comes in two sizes – S/M and L/XL.
Plus, the shawl is machine washable and can be dried on low heat settings. It also comes in 10 fun colors and patterns!
4. Nozone Women's UPF Shawl
While Coolibar is one of the most well-known sun protection clothing brands, it's not the only option out there!
The Nozone Women's UPF Shawl is another sun-safe, affordable shawl made from 66% rayon, 28% cotton, and 6% spandex. Made in Canada, this shawl is UPF 50 rated and is machine washable.
It's oversized at 30″ x 75″, allowing it to be worn not just as a shawl, but also as a headcover or a neck wrap. It can be draped around the shoulders and arms for additional coverage, or placed on one's lap to protect bare legs.
This shawl comes in five colors and patterns to choose from.
5. SUN50 Women's Beach Sarong
This Sun50 Beach Sarong is a more high-end shawl that also functions great as a beach sarong. Made from premium recycled materials like polyester, spandex, and recycled PET, this USA-made shawl boasts a UPF 45+ fabric while staying sustainable. It also has earned the Skin Cancer Seal of Recommendation!
Sized at 66″ long and 44″ wide, its shape allows it to function as a sarong, shawl, skirt, dress, or cover-up.
It comes in two striking designs – navy blue with white accents and red with gold accents.
---
Benefits of Sun Shawls
Sun shawls have some advantages over other pieces of sun protection clothing, as they are super versatile. Some major pluses to sun shawls include:
Versatility: Sun shawls can be used in a variety of ways — Ttey can be worn as a scarf, wrap, or even a sarong. This versatility makes them a great accessory to have when traveling or when you need to pack light.
Style Options: Sun shawls come in a range of colors, patterns, and styles, which means that you can choose one that complements your outfit or reflects your personal style. They can add a pop of color or texture to an otherwise plain outfit.
Breathability: Made from lightweight, breathable fabrics, sun shawls allow air to flow through, which can help to keep you cool on hot days — this definitely isn't true for all sun-protective materials!
Easy to carry: Since sun shawls are easy to fold or roll up, they're perfect for carrying in a purse or backpack. This makes them a great accessory to have on hand for impromptu outdoor activities or when you're on the go.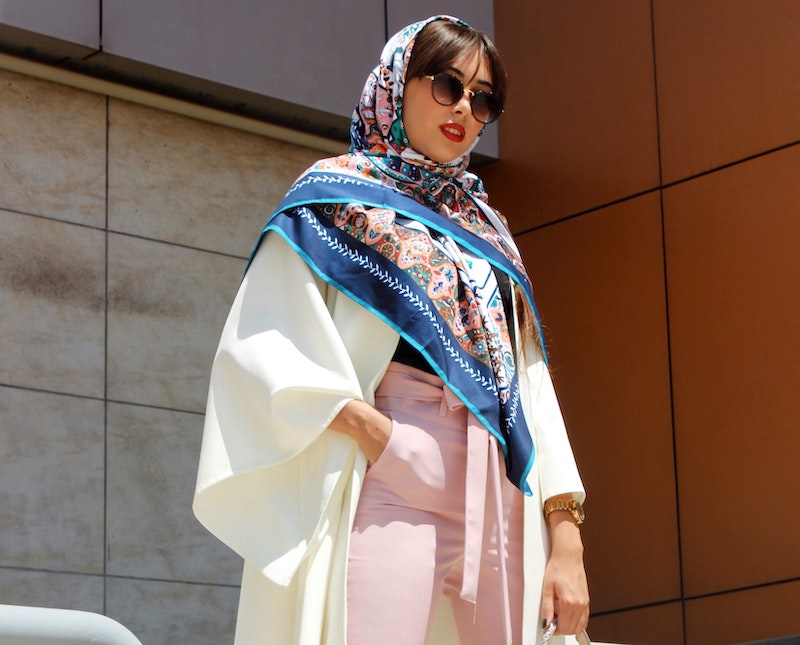 Sun safety is one of the most important aspects to consider for beach season. While there are a lot of ways to keep your skin safe, from sunscreen and swim shirts to sun scarves and sun protective shirts, sun shawls are arguably one of the most useful and versatile items as they can be worn in so many different ways!
What's your favorite way to wear a sun shawl? Is there one material you prefer over others? Share your thoughts in the comments below!