Sun protection is a necessity for everyone, not just those are always out and about in sunny climates. With the sun's UV rays penetrating our skin and leaving us vulnerable to skin cancer, it's important to find clothing that can protect you from the sun's harmful rays.
Luckily there are plenty of UPF clothing brands that offer top-quality UPF50+ rated clothes with excellent comfort and style.
We'll detail some of the biggest and best UV sun protection clothing brands below. Some will likely be familiar to you, but for others, this may be your first time hearing about them! Who knows? Maybe you'll find a new favorite!
The Best UPF Clothing Brands
1. REI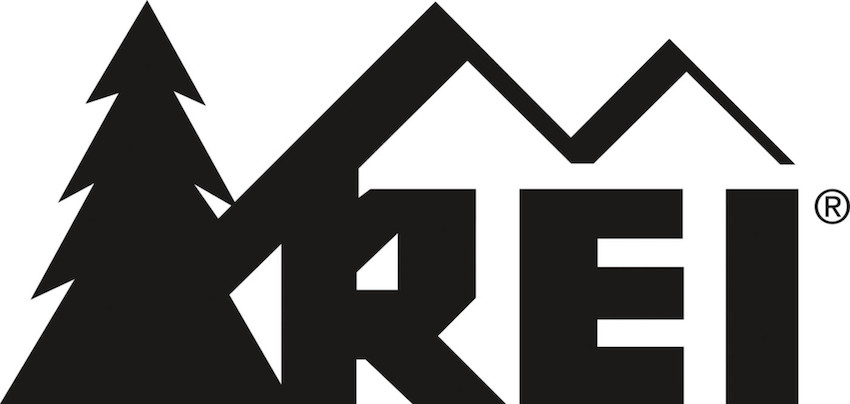 REI (short for Recreational Equipment, Inc) is an outdoor recreational company operating on a global scale, with headquarters in Kent, Washington.
Founded in 1938 as an outdoor retail co-operative with just a group of climbing-enthusiast friends, REI now boasts 168 locations in 39 states.
REI has been devoted to enjoying the outdoors safely for many years, and this is reflected in their range of UPF clothing and gear.
With hundreds of different clothing items and sport-specific UV gear, REI's sun protective clothing is made with fabrics that have both great UV protection ratings and water-resistant properties.
The downside is that REI has thousands of product offerings, and many of the apparel items are not specifically geared towards sun protection. Some articles of clothing don't feature any kind of UPF rating (although plenty of others do).
Luckily, the REI website does have an option to filter by clothing with sun-protective fabric, so finding a good fit isn't a huge challenge.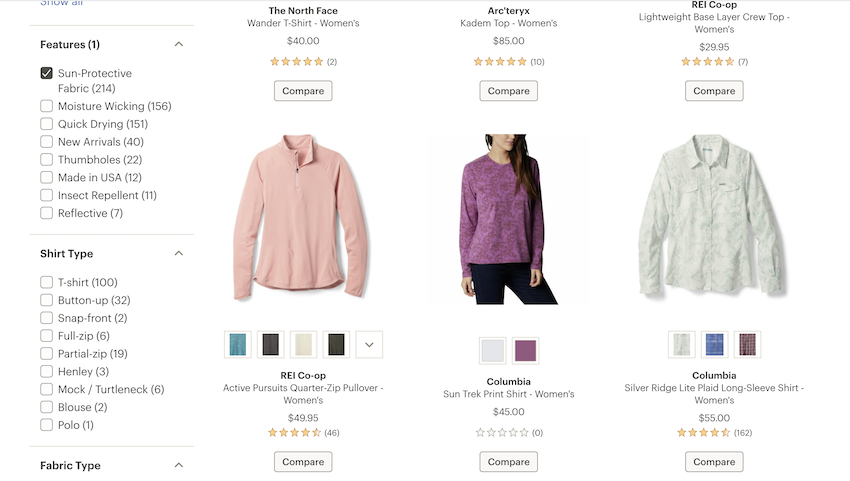 REI is somewhat unique in that their sun protection clothing comes in a wide array of styles with a variety of different fabrics. They also boast the benefit of often sourcing unique, environmentally-friendly fibers like hemp or recycled polyester.
This can be a major plus for those who want to wear something that keeps out the sun while benefiting the environment as best they can through ethical shopping practices.
2. Coolibar

Coolibar is a company specializing in sun-protective clothing, with a particular focus on UV clothing for leisure activities as well as the outdoors.
They offer a wide and extensive range of shirts, trousers, jackets, hoodies, sun gloves, hats, and swim-gear for individuals of all ages. They also have sport-specific gear for activities like fishing, swimming, traveling, boating, running, etc.
Founded in 2001, Coolibar's headquarters is in Minneapolis, Minnesota.
All Coolibar fabrics have been approved as an effective UV protectant for covered areas, and Coolibar proudly uses third-party independent testing to ensure that all fabrics have a high ultraviolet protection factor that's UPF 50+.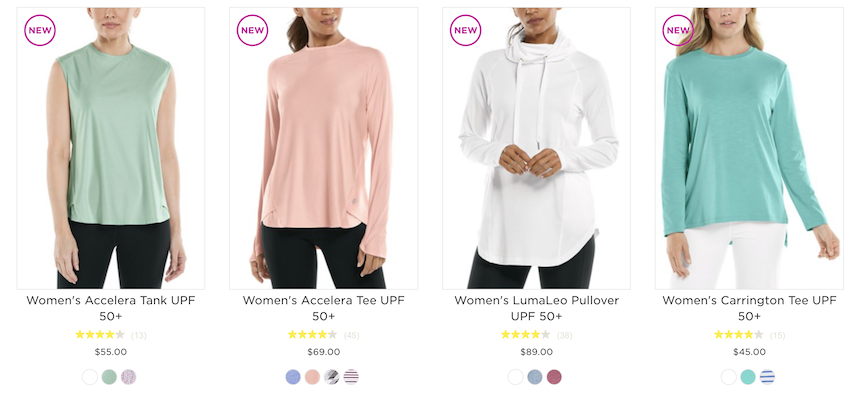 Coolibar is also often on the forefront of technical innovation in terms of UV protective clothing, using a combination of weave, color, weight, and even zinc oxide infusion to ensure their clothing provides as much protection as possible.
Coolibar is even the first clothing company to receive The SCF's Seal of Recommendation!
3. Solbari
Solbari is a UPF clothing company based in Melbourne, Australia. Since Australia has the highest incidence rate of skin cancer in the world, perhaps it is no surprise that it's the base for one of the most well-known sun protective clothing companies out there.
All of Solbari's products have been tested and awarded a high sun protection factor with a UPF 50+ rating. They boast an impressive research and development team that has spent years working to achieve the most lightweight, breathable, and protective clothing possible.
Solbari's clothing options are extensive, with the usual long-sleeved tops, short-sleeved shirts, shorts, pants, dresses, and skirts. In addition, Solbari offers some more unique options like UV wraps, swim leggings, swim dresses, women's swim shirts, UV polos, gloves, and more.
If you want to shop quickly and easily knowing that every article of clothing boasts the highest UV rating possible, Solbari is a smart choice.
4. Lilly Pulitzer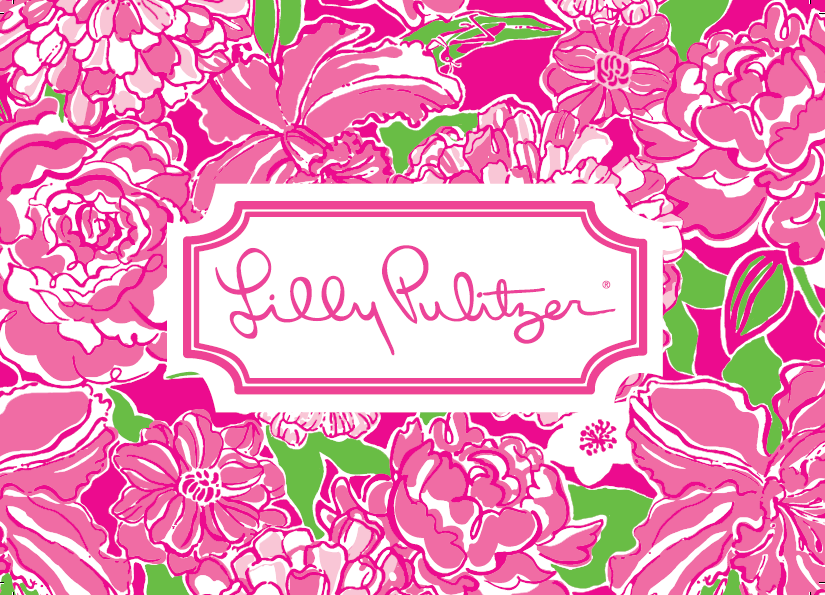 Lilly Pulitzer is a classic American brand renowned for its bright, colorful, and cheerful clothing patterns. Lilly Pulitzer was founded in 1959 by women entrepreneur Lillian Pulitzer herself!
Best known for their women's clothing and preppy patterns, Lilly Pulitzer offers everything from dresses and shirts to pants and swimwear, along with coats, purses —even leggings!
If you're sick of the boring drab shades often found with traditional UPF clothing, you'll be thrilled to know that Lilly Pulitzer offers their own line of UPF50+ rated clothing.
Not only that, their selection of UPF50+ rated clothing is wide and extensive with over 180 different clothing articles, each with a unique pattern and a tremendous pop of color!
5. Cabana Life
Cabana Life is a woman-founded brand of clothing specialized in UV protection that was started with one of the founder's malignant melanoma diagnoses at just age 26.
Cabana is largely focused on fashionable UPF clothing for women. One aspect that makes them particularly unique is their variety of fabric collections, with options like "sports knit", "woven tencel" (made with sustainable wool cellulose), "knit jersey", "lush-terry", and "paperweight woven", among others.
If you're a bit particular about fabrics or have sensitive skin, Cabana Life will likely have a material that will work for you!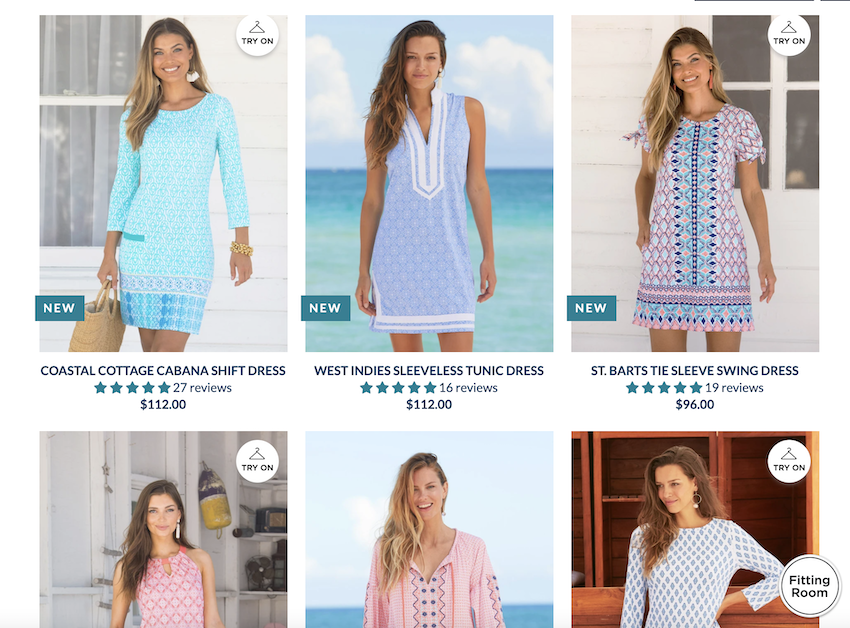 The only downside is that due to the variety of unique fabric materials, Cabana Life clothing should only be hand-washed on cold.
6. Mott50
Mott50 is a UPF clothing brand devoted specifically to UV protection, with all clothing boasting a UPF50+ rating. Best known for their UV-protective shirts, shorts, dresses, and swimwear, Mott50 also offers hats, sarongs, and cover-ups.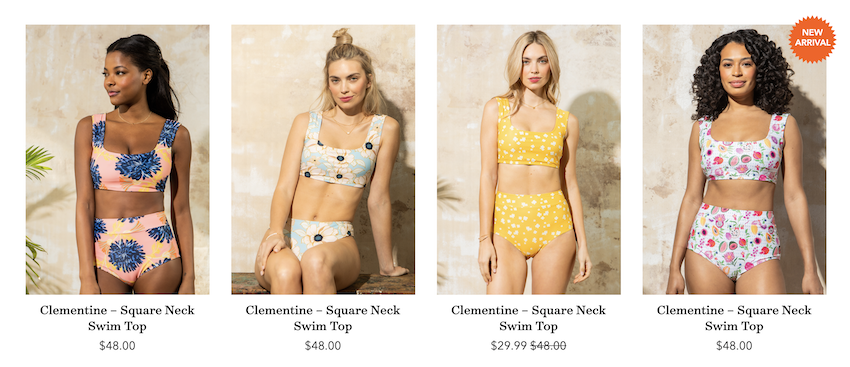 Mott 50's apparel is particularly bright and vivid compared to standard UPF clothing, a wide array of fun patterns that stand out, like their flower-covered tops and fruit-dotted swimsuits!
7. UVSkinz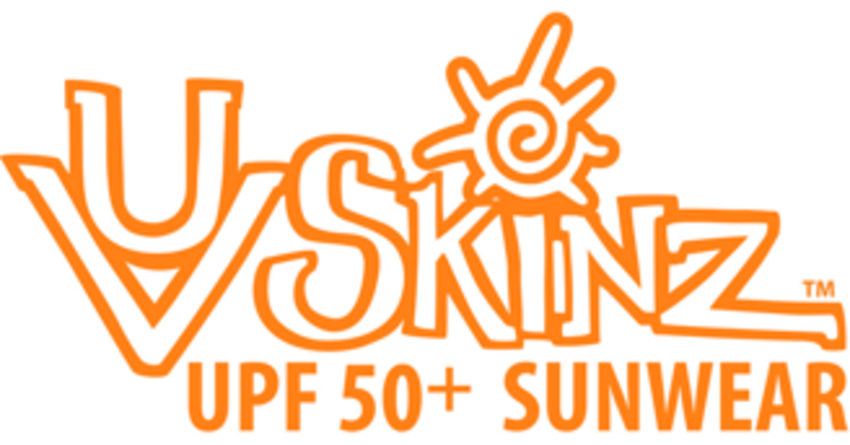 UVSkinz is a UPF clothing brand with a focus on fun and innovative products for children as well as adults.
Founded in 2005, their sun protective clothing runs the gamut from swimwear to sleeveless shirts and long sleeve shirts in both short and long lengths.
UVSkinz was inspired by the founder Rhonda Spark's loss of her husband to skin cancer at just 32-years old. After her loss, Rhonda was driven to protect other families through sun-safe education and products.
This is why UVSkinz focuses on protection for the entire family, from babies to toddlers, teens, and adults. UZSkinz products have a 50+ UPF rating and have acquired the Skin Cancer Foundation's Seal of Recommendation.
8. Title Nine

Title Nine is a small woman's clothing company with an ever-growing selection of UPF clothing items. Based in Northern California, the company has been women-run and owned since 1989 with boost-strap beginnings.
Title Nine prides themselves on their mission is "to empower women and girls to lead active, adventurous lives". To do this, Title Nine offers a wide range of athletic wear for women and children, as well as gear for the outdoors – including sun protection clothing, with plenty of women's UPF clothing tops!
Their name comes from the 1972 Title IX act that made it illegal for any public institution to limit participation in sports based on a person's gender. As an act that inspired many of the company's founders, the name has become synonyms with women triumph for them.
Title Nine also provides grants for numerous community-building projects with a focus on at-risk girls. Title Nine's Starting Block grants provide financial or in-kind donations for small, grassroots organizations who are dedicated to helping girls in athleticd.
They also run another unique project called Bra Brigade, which donates Title Nine's high-quality sports bras to 501(c)3 organizations or sports teams in underserved communities that are comprised of at least 40% girls.
As with REI, Title Nine isn't primarily a UPF clothing brand, and they aren't focused on UV clothing in particular, but they do offer a wide variety of UV clothing options. They have a handy webshop filter that allows a user to filter for sun-protection clothing.
Title Nine is naturally an especially good choice for women, with a huge variety of shirts, tank tops, jackets, rash guards, board shorts, and more in many different styles and fits, with colorful and unique patterns
Plus, Title Nine really goes above and beyond for swimsuits, with specific bikini, tankini, and one-piece collections as well as swimsuits with specific cup sizes (which any woman will greatly appreciate).
9. Athleta
Athleta (whose parent company is Gap) is more focused on sportswear than any of the other options listed here, but they do have a small line of UPF clothing as well.
Their UPF options can be found by filtering for UPF under the Performance/Technology option.
Athleta is another brand specializing in catering to the needs of women and girls, specifically. They're also focused on sustainability, with 71% of their materials using sustainable fibers.
Athleta specialized in athletic wear for outdoor activities like hiking, running, yoga, and Pilates. While they don't have the largest selection in the world, what they do offer is comfortable and great for athletics as well as leisure. Many of their clothing pieces come in plus sizes up to 3X and feature classic, timeless styles and colors.
10. LL Bean

LL Bean is a company famous for its outdoor wear, providing all the gear and clothing outdoor adventurers need to get out and experience nature.
L.L.Bean is an American company founded in 1912 with its company headquarters in Freeport, Maine (where it was also founded).
LL Bean has a huge array of outdoor equipment and gear — while they're not specifically a UPF clothing brand, they do manage to have a fairly extensive UPF clothing section, as they cater to folks who spend a lot of time outdoors.
Their SunSmart™ line of UPF clothing provides UPF50+ sun protection clothing with a variety of tops, hats, shorts and pants, with bright colors and the high-quality that LL Bean is known for.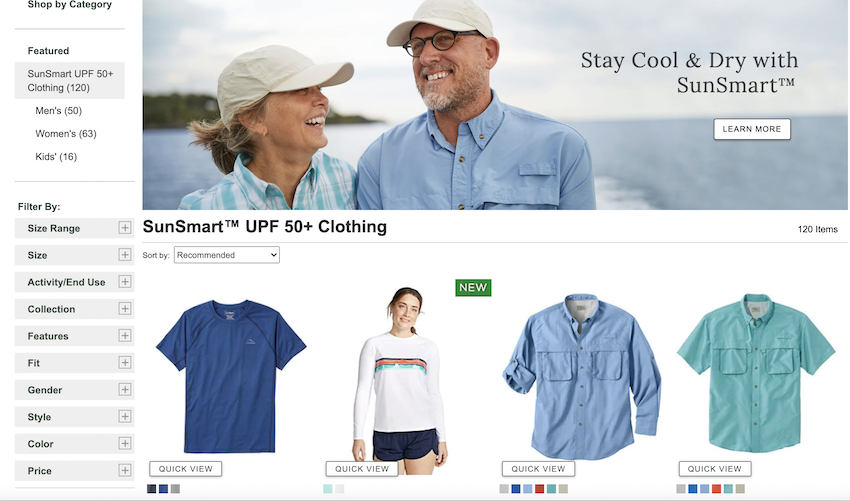 In addition to providing UPF50+ protection, some of their clothing options offer additional benefits, like bug-repellant properties or chlorine-resistance!
11. Patagonia
Patagonia is another outdoor company that offers a decent selection of UPF clothing. Best known for outdoor equipment and nature-worthy apparel like jackets, backpacks, tents, sleeping bags, and shoes, Patagonia has been making outdoors people happy since 1973. They're based out of Ventura, California.
Patagonia has earned its reputation through the quality of its products and commitment to the environment, with a large focus on activism and sustainability.
Their tremendously large collection of gear and clothing can make it difficult to find officially rated UPF clothing, but there are some options available for those who want sun protection along with Patagonia's quality.
12. Bloq UV

Bloq UV is a unique brand of clothing that's focused completely on UV protection. Bloq UV prides itself on their BloqTek proprietary fabric with UPF50 sun protection clothing.
While their selection of UV-protective clothing for women and men isn't especially extensive (and their selection for children only features two options), all their materials are designed to be comfortable and cozy while providing all the necessary protection from the sun's UV rays.
13. IdleBird
IdleBird is a smaller, independent fashion-focused company dedicated to bringing stylish UPF sun protection clothing to consumers.
They have some really neat-looking dresses and tops that look like they'd fit in more at a runway than a beach party so that you can look great while keeping yourself safe from the sun's harmful UV rays!
If you're passionate about fashion and sun protection clothing, IdleBird is a great place to check out some of the most exciting UPF clothing options on the market.
14. Line In The Sand
Line In The Sand is another boutique women's clothing brand with a major focus on sustainability and sun protection, along with women empowerment.
They're a company you can feel great about shopping with, as they seek to primarily use materials that have a low impact on the planet, such as organic cotton, wool, and bamboo.
Line In The Sand appears to be a remarkably ethical brand focused on giving back – in fact, they say 100% of profits go to organizations that help to protect oceans and fight cancer. The founder herself, Lynne Fletcher O'Brien, is a sea-loving cancer survivor, which inspired her to create the brand.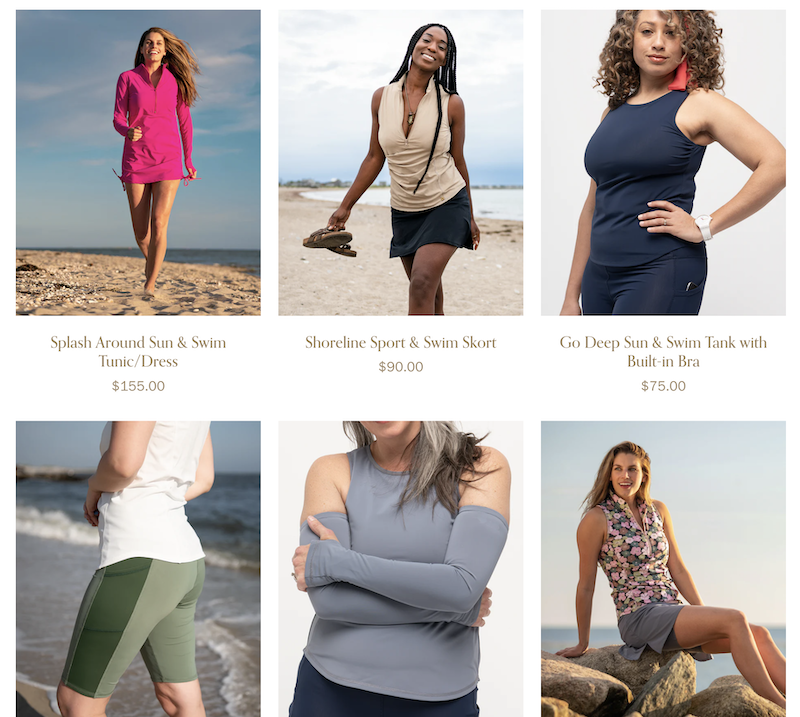 The Line In The Sand collection is fairly small, but the swimwear and UPF clothing they do offer is unique, provides great coverage, and is ethically sourced.
15. Constant Sol
Constant Sol is a US-based UPF clothing company specializing in stylish, unique designs that pushes the enveloped of what sun protective clothing looks like.
Constant Sol's founder Allison Dvorak has had melanoma and basal cell carcinoma, inspiring her to found her own brand of chic UPF 50+ sun protection clothing.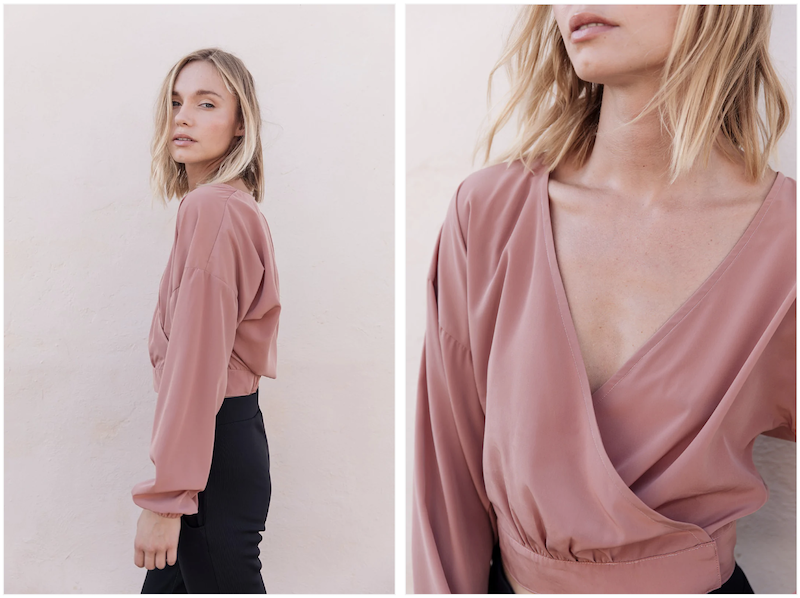 Their selection is small, but all of Constant Sol's fabrics feature broad spectrum protection and are made in the USA! They boast some really unique styles, so be sure to check them out if you're looking for something outside the box.
---
It's heartening to see how many companies out there offer such a variety of UPF50+ rated clothing, with several brands focusing exclusively on UV protection as their driving value.
Whether you're looking for bright, colorful patterns like those offered by Lilly Pulitzer, or are looking for more rugged outdoorsy UV clothing such as what's offered by REI and Patagonia, there's likely a sun protection clothing brand with reliable UPF clothing that'll be a perfect fit for you!
As always, don't forget to wear UPF clothing anytime you'll be outdoors in the sun for significant periods of time — especially when you're without sunscreen.
Are there any awesome UV clothing brands we failed to mention? If you have any recommendations, add them in the comments!