Is it time to invest in a UV swimsuit that will protect you from the sun? Are you tired of reapplying sunscreen while at the pool or beach? Maybe you want to go kayaking, paddleboarding, or surfing and can't easily carry sunscreen with you.
Opting for a UV women's swim shirt allows you to protect your skin from sunburns, aging, and skin cancer without the hassle of sticky sunscreen.
First, let's break down the difference between SPF and UPF. Many people may use these terms interchangeably when shopping for UV-protective swim shirts, but these terms actually refer to totally different forms of sun protection!
SPF vs. UPF: What's the Difference?
Wondering about what's the difference between SPF vs UPF? Let's do a quick overview of the difference:
SPF. SPF stands for Sun Protection Factor. SPF is a rating system used for sunscreens and other topical products containing sunscreen, indicating how long you should be able to stay in the sun before getting burned.
UPF. UPF stands for Ultraviolet Protection Factor. The UPF number identifies what fraction of the sun's ultraviolet rays can get through the fabric. A UPF of 50 which is the maximum rating, only allows 1/50th of the sun's UV radiation to penetrate the material and reach your skin.
As you can see, it doesn't really make sense to discuss SPF in terms of swim shirts, as SPF is a rating system that is only applicable to sunscreen – not clothing!
Instead, when evaluating sun-protective clothing like swim shirts, we need to look at the UPF rating.
Higher UPF clothing has a tighter weave of materials and is often pre-treated with ingredients that increase its ability to block UV radiation. It does not wash out.
According to the Environmental Working Group's sun safety tips, UPF is actually a more reliable form of sun protection than SPF in sunscreen, simply because the majority of sunscreen users don't apply enough of it, use it incorrectly, or don't reapply it as often as needed.
The Skin Cancer Foundation notes that more people are diagnosed with skin cancer each year in the U.S. than all other cancers combined, which should be enough of an excuse to buy as much high-UPF clothing as you want.
A piece of clothing with a UPF rating of 50 allows you to stay out in the sunshine longer and gives you the confidence to enjoy what you love to do with the knowledge that you are protecting your skin.
Are UV Protective Swim Shirts Fashionable?
UV swim shirts and other articles of UPF clothing certainly can be fashionable and look very stylish!
However, the primary goal of UPF clothing is to keep you safe from the sun. Any fashion elements are secondary! For this reason, UV-blocking clothing like a women's swim shirt will often feature:
Full length sleeves (some will even have thumb holes to protect hands and keep sleeves tightly in place)
High neck lines (some with zippers for easier removal)

Performance-based fabric to reduce drag

and wick away sweat
Darker colors (as dark colors tend to absorb more UV than light colors)
Mesh panels under the arms for breathability

Swim shorts, skorts and leggings
Some style-focused folks might express annoyance at the fact that so many UV clothing items tend to come primarily in dark colors. Darker colors tend to absorb more UV light than lighter colors. In addition, the more vivid the color, the greater the protection; a bright yellow shirt is more protective than a pale one.
That being said, we've found some very colorful, cute, and even sexy swimsuits that will make you feel confident and cool!
Do I Want a Rash Guard or a Swim Shirt?
Many folks new to shopping for UV protective swimsuits get a bit confused between the terms "rash guard" and "swim shirt."
They both pop up a lot when discussing sun protection in the water. But is there any difference? Yes! Let us explain.
Rash Guards
Rash guards or "rashies" get their name from their down-under origin in Australia. They were created to protect surfers from rashes caused by sand caught on waxed surfboards and from chaffing against fast-moving water.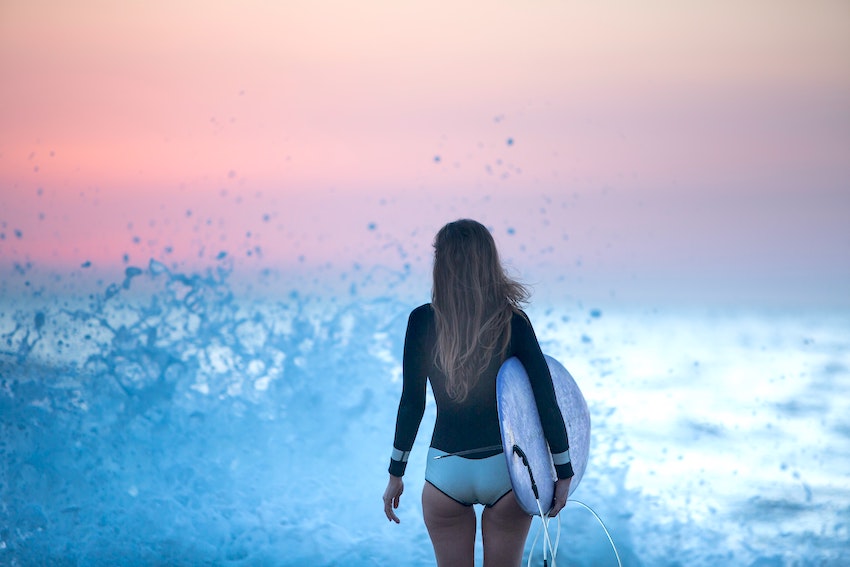 These shirts fit very tightly so that they don't rub against the skin at all. Most of these shirts have a UPF 50 rating but make sure to check in order to be sure. You'll find rash guards designed for surfing, snorkeling, and even land activities (although they are primarily made to wear during water sports).
Swim Shirts
Long-sleeved swim shirts with a UPF of 50 are also great in the water. They usually fit a bit looser than a rash guard and can lift up and float on top of the water if they are too large.
Make sure to look at the sizing charts before purchasing a swim shirt, as they often come in several sizes. These shirts are comfortable and some are also well-suited for sports like tennis, golf, biking, and kayaking.
In a nutshell, swim shirts are looser and designed more for lounging on the beach and light swimming. Rash-guards are skin-tight and are designed to not just provide protection from UV rays, but also to protect the user's skin from chafing and friction that can result from water sports.
Best Women's Swim Shirts for Full UV Sun Protection
Our favorite sun protective, stylish swimsuits:
1. Peddney Women's Rash Guard Long Sleeve Swim Shirt
Peddney Women's Rash Guard Long Sleeve Swim Shirt is a great top and bottom swim set for surfing, swimming, and other water sports. This 50+ SPF-rated two-piece set offers many unique and colorful floral printed patterns, offering a fun alternative to standard plain and drab swim shirts.
We love that this set comes with a colorful top and high-waisted black bottoms that make it easy to mix and match if you need to wear a different top when this one is in the wash.
This long sleeve rash guard shirt protects your skin from sun damage while still providing plenty of support through the thin, padded built-in bra. Made with breathable and quick-drying materials, it's ideal for hot summer days on the beach! There are 18 color and pattern options are available to choose from, along with five sizes from small to XXL.
Pros
Unique two-piece with high-waisted bottoms
Over 18 color and pattern options
2. Daci Women Rash Guard Long Sleeve Zipper
Daci Women Rash Guard is another great pick for summer swimming. This is another two-piece set that features a long-sleeved top along with rash guard boy shorts in a solid color.
The UV swim top has half-zipper closure that makes it easy to take on and off, plus a built-in soft bra to keep you supported during water activities. Available in 6 sizes from extra small to XXL and over 20 color options, there's a pattern and color shade to match any taste!
Pros
Half-zipper design
Includes boy short swim bottoms
3. CharmLeaks Women's Long Sleeve Rashguard UPF 50 Sun Protection Swimsuit
CharmLeaks Women's Long Sleeve Rashguard is a UPF50+ rated swim top with long sleeves and a high crew neckline to provide optimal protection, guarding your skin against harmful UV rays.
The color block striped top offers a splash of style with a design that stands out. The material is made of quick-drying and breathable material that shouldn't lose its shape after washing. Available in 5 sizes ranging from small to XXL, this swimsuit also comes in five color options too so you can choose the shade that fits your personality best.
Pros
Cute, long patterned sleeves
Great coverage
Includes swim bottoms
Cons
Does not have bottoms included
Not so many color and style options
4. American Trends Women's Athletic One Piece Swimsuit
American Trend's Women's Long Sleeve One-Piece Swim shirt is a great swim shirt option for those who want more full-body coverage and don't want to worry about matching a two-piece outfit.
Despite being a one-piece outfit, it offers bright, unique color black patterns that give it the style and look for a two-piece swimsuit.
Made of polyester and elastane, this full-coverage swim outfit offers UPF50+ protection with skintight fabric that's flexible, breathable and quick-drying. It has a zipper at the front that makes it simple and easy to put on and take off, with a high neckline and long sleeves for solid coverage. Plus, this suit has soft chest pad with no rims in order to provide extra support and comfort in and out of the water.
This suit comes in over 20 color options as well as several sizes, with some truly fun and unique patterns you won't find elsewhere!
Pros
Over 20 color and pattern options
One-piece suit with the style of a two-piece
Convenient front zipper
Cons
Does not have bottoms included
5. AZOKOE Womens Summer Beach Printed Zip Front
The AZOKOE Women's Beach Zip Front Swimsuit is another great one-piece option for UV coverage while swimming. Made of nylon and spandex, this UV swimsuit is breathable, quick-drying, and includes a zipper closure at front. It also has a built-in chest pad with no rims for support, and comes in several patterns as well as solid colors.
Pros
One piece with color block design
Zippered front makes it easy to put on and take off
Bright, color pattern designs
Long sleeves for full coverage
Cons
Some may prefer a swim outfit with bottoms
6. Yonique 3 Piece Tankini Swimsuits
Yonique's 3 Piece Tankini Swimsuit is a great perfect swimwear option for any woman who wants a variety of layering and wearing options for a day out in the sun.
This set features cinched drawstring boy shorts, a sports bra-style swim top, as well as a tank-style top. You can wear the bikini-style bottoms and top alone, or layer it underneath the tank top. Regardless of how you choose to wear this three-piece set, you'll feel comfortable and stylish with the material's quick-drying properties.
The tankini top features an open-back design that intentionally allows the bikini swim top to peek through perfectly, while the boy short bottoms rely on cinched drawstring sides to offer better thigh shaping.
Pros
Unique three-piece design
Allows wearer to transition from swimming to lounging easily
7. AXESEA Women's Hoodie Rash Guard
AXESEA Women's Hoodie Rash Guard is a stylish and comfortable rash guard that boasts a full zipper as well as a hood!
This hooded rash guard will keep you cool in the summer heat while protecting your skin with its SPF50+ rating. The breathable fabric makes it ideal for all water activities while the apparel's quick-dry technology allows you to stay cool and dry. The design also has patchwork flatlock seams designed to reduce chaffing.
And it gets better – this rash guard includes pockets too, allowing you to store keys, a credit card, or any other necessities (although we'd suggest emptying the pockets for swim sessions). This rash guard makes a great women's UPF clothing top too that can be worn for everyday activities out on the town.
This UV swim hoodie comes in five different color options as well as five different sizes.
Pros
Includes a hood to protect scalp when needed
Has pockets
Cons
Does not have bottoms included
8. BesserBay Women's UV Sun Protection 1/4 Zip
BesserBay UV Sun Protection 1/4 Zip Rash Guard is a protective UV-blocking shirt with a UPF50+ rating. This top features moisture-wicking fabric to keep you dry throughout the day while also allowing for quick drying of the material.
The blouson-style top includes a 1/4 zipper on the front, making it easy to take off when needed. It sports an attractive design with drawstring sides for added comfort and a more flattering fit. There are 12 color options available as well as several size options too!
Pros
Drawstring shirt bottom allows for flattering fit
1/4 zipper for convenience
9. TSLA Women's UPF 50+ Rash Guard
TSLA Women's UPF 50+ Rash Guard
Affordable stretchy long-sleeved swim shirt
No products found.
The TSLA Women's UPF 50+ Rash Guard is a basic, essential UV swim shirt that's affordable and no-nonsense. With a UPF50+ rating and long-sleeves, you'll get all the sun protection you need.
This rash guard is made of a polyester/spandex blend which makes it stretchable, soft, comfortable. It uses quick-drying materials that wick moisture away while also featuring flat-lock stitching which gives the fabric extra strength and durability.
This budget-friendly, long-sleeved rash guard comes in 30 color options, so you have plenty of options for mixing and matching with existing trunk shorts.
Pros
Budget-friendly
30 color options
10. Hanna Nikole Women's Long Sleeve Rashguard UPF 50 Sun Protection Plus Size
The Hanna Nikole Women's Long Sleeve Rashguard offers a cute, plus-sized two-piece UV swim shirt, with high-waisted bottoms and a long-sleeved top with a built-in bra for added comfort. The swimsuit's materials use moisture-wicking technology to keep you dry, even allowing you to quickly dry off after a swim.
This rash guard features a fun color block design that comes in 6 color options and 6 sizes ranging from 16 plus to 26 plus.
Pros
Many sizes including plus-size options
Long-sleeved two-piece allows for comfort and coverage
11. AXESEA Women's Full Zipper Rash Guard
Have a blast at the beach in this AXESEA rash guard that is form-fitting with a flattering and feminine look. This UV swim shirt boasts a UPF50+ rating and a long-sleeve design for maximum sun protection while the patterned sleeves and crew neckline offer full-body coverage while still looking cute and fun.
This rash guard's fabric is quick-drying and has anti-chlorine properties to help keep you cool even and prevent damage to the shirt's UV-blocking abilities. Ideal for surfing, diving, snorkeling, and other water sports, this UV swim shirt's seams are flat-locked to prevent chafing and to provide a smooth, comfortable fit.
Pros
Full body coverage
Great for water sports
Cons
Some may find this rash guard too form-fitting
What Are Swim Shirts Made Out Of?
Most women's swim shirts and rash guards are made from:
Nylon
Polyester
Spandex/Lycra
A mix of the above
These are used in order to keep the sun-protective fabric materials lightweight, soft, breathable, quick-drying, and stretchy – all great for swimwear!
Many also contain moisture-wicking material that keeps you cool while also making clothes dry faster once you're out of the water.
What About Sun Shirts?
You'll notice that many of the products we detail in this guide are referred to a "sun shirts" as well as rash guards or swim shirts – in fact, many manufacturers will just use these terms interchangeably.
This is because sun shirts and swim shirts are, in fact, essentially the same thing. They are usually made of the same material – lightweight, breathable, moisture-wicking fabric designed to keep the wearer dry while protecting them from the sun.
Most swim shirts can be worn as everyday sun shirts, and vice versa! So don't stress if some of the naming conventions have you confused.
What to Consider When Shopping for a Swim Shirt
Sleeve Length. Most swim shirts feature a long sleeve to protect you from the sun as much as possible. However, some swim shirts will come in 3/4 length or even short-sleeves, although full sleeves are the most common.
Pattern. Most of us don't just want a swim shirt that fulfills the practical purpose of protecting us from the sun – we want something that looks great too! Luckily, modern swim shirts come in a wide range of bright colors and fun patterns that are far from boring.
Neck Height. Consider how high you want the neck to be. Most swim shirts feature a high neck line, but if you don't like this look, you may be able to find a few lower-cut options (although they aren't common).
Zipper. Swim shirts will often come with a full, half, or 1/3 zipper. Many others don't include a zipper at all. A zipper can be nice for when you're done swimming and want to sit back and unwind a bit. Zipping a swim shirt down a bit also make sit easeir to take off (especially when you're dealing with a rash guard) Just be careful not to zip the shirt too low if you won't be wearing a bra underneath!
UPF Rating. The vast majority of swim shirts detailed here will have a UPF 50 rating. If you're shopping at home, just make sure to look for a swim shirt with the highest rating possible (for swim shirts, that's UPF 50).
Bottoms. Most UV swim shirts are sold as just a standlone shirt. This isn't a problem, if you already have a collection of swim bottoms at home. But, if you want a full set (or something that matches), look for brands that provide a bottom along with the swim shirt tops.
Built-In Bra. Some swim shirts will include a built-in bra, while others won't. The built-in bra is definitly a handy feature, but the pads often get dislodged or moved during wash, so be prepared to re-align them as needed. Some individuals still prefer to wear a sports-bra underneath a swim shirt, even if there is a built-in bra. This is mostly a matter of personal preference.
---
We've all felt the sting of a bad sunburn. No matter how diligent you think you are at applying sunscreen, chances are that the sun will sneak in and get you at some point.
Why worry? Sun protection clothing makes a lot more sense than relentlessly reapplying sunscreen, especially for active people.
Enjoy your summer (and spend a few extra hours outdoors) with the peace of mind that you're keeping yourself safe from the sun!
Tell us what you look for in a protective swimsuit and let us know if you've purchased a "rashie" or another piece of sunblock clothing in the comments!