Can umbrellas really provide adequate sun protection? How exactly do they work?
While sunscreen is still the most effective and reliable protection against the sun, sun umbrellas are a great alternative when you don't feel like re-applying on a sunny day.

Plus, in addition to protecting against UV rays and reducing your risk of skin cancer and melanoma, sun umbrellas can also provide shade that keeps you cooler and more comfortable in the heat of the day.
In this article, we'll discuss how to choose a sun-protective umbrella and review some of the best options we've found online!
Factors to Consider When Choosing a Sun Protection Umbrella
UV Rating
When choosing an umbrella for sun protection, remember that shade coverage alone is not enough – you'll want to ensure that the umbrella has a good UPF rating. Usually 50+ UPF is a good starting point, as 50 UPF protects against 98% of the sun's rays.
Size & Shade Coverage
When you're selecting an umbrella to use for sun protection, be sure that it's large enough to provide adequate shade coverage. For your umbrella to block the maximum amount of UV rays, choose a wide umbrella with a large canopy made from fabric that blocks UVA and UVB.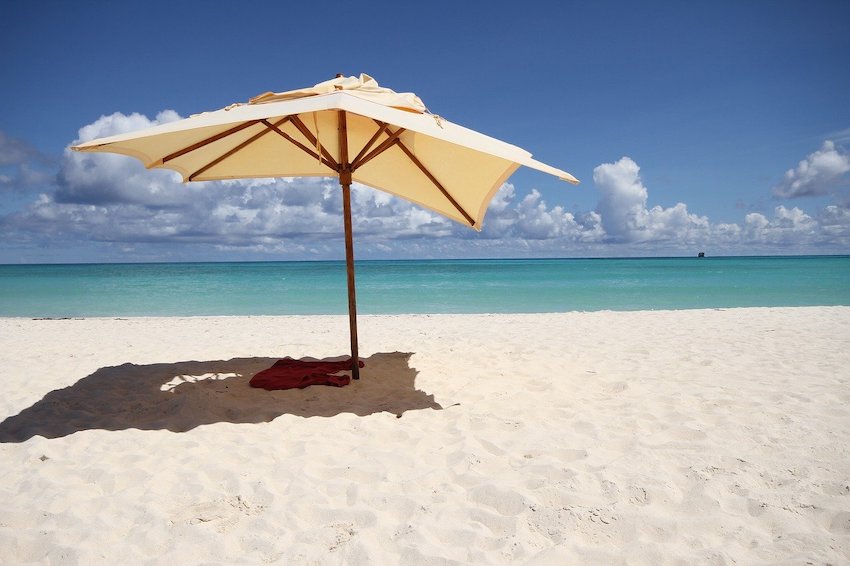 Some umbrellas even have additional panels that can fold down to increase the shade coverage area for a group of people.
Materials & Fabric
Look for umbrella fabrics made of polyester, nylon, or polyester-nylon blends. These materials are UV resistant and provide great sun protection. Many sun umbrellas also boast double canopies for extra sun-blocking capabilities.
The umbrella fabric should be tightly woven in order to block more UV light. If you primarily value aesthetics, a parasol might be a better choice for you, as parasols feature beautiful, elegant pattern work. The downside is that parasols are often made of thinner materials and don't boast the same level of UV protection as sun umbrellas do.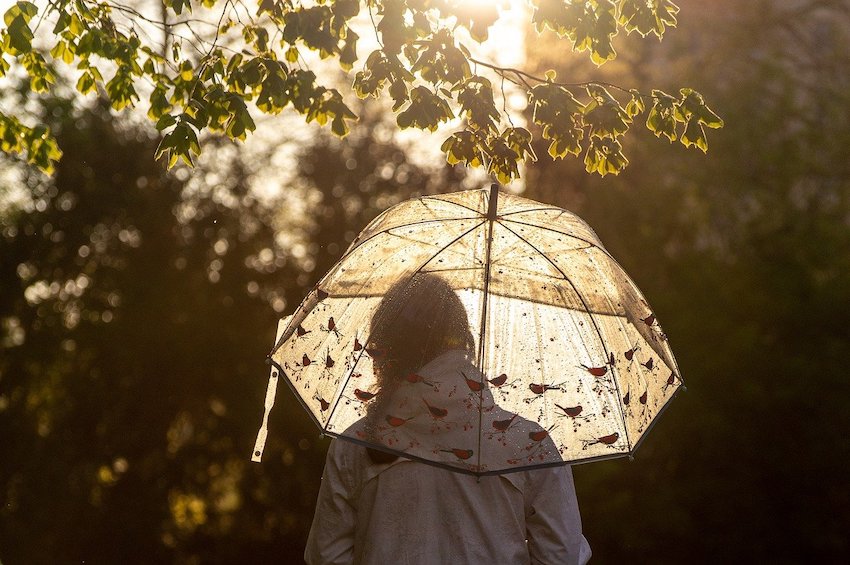 While sun umbrellas can come in a wide array of colors and patterns, the best umbrellas will have a light-colored canopy that is designed to reflect UV rays.
Choose a fabric with a tight or medium weave, and bright colors like yellow, red, blue, or other bright shades that will reflect UV light.
Angle Adjustment
If you're looking for a sun-proof umbrella that will usually be stationary (as opposed to holding the umbrella in your hand), you may want to consider choosing an umbrella that can be adjusted and tilted to different angles.
A movable umbrella canopy allows you to easily adjust the umbrella angle based on the direction of sunlight and how much coverage is needed in a certain area.
Umbrella Weight & Portability
When shopping for a sun umbrella, choose an umbrella that's lightweight and portable yet large enough to provide shade coverage for you and your family.
Some umbrellas are specifically designed to provide enough shade coverage for two or more people. The drawback of course is that these umbrellas are bulkier and less portable.
Handle and Frame
You'll want to choose an umbrella that has a comfortable, ergonomic handle and a sturdy umbrella frame, especially if you'll also be using the umbrella for rain or in storms.
The Best UV Umbrellas for Sun Protection
1. Coolibar UPF 50+ 42-Inch Sodalis Travel Umbrella
The Coolibar UPF 50+ 42 Inch Sodalis Travel Umbrella is the perfect travel umbrella that will keep you safe from UV rays on sunny days. This sun umbrella has a UPF 50+ rating, blocking 98% of UV radiation.
It features a 42-inch arc with 38.5-inch diameter, providing a great amount of shade while still staying portable. While it measures 20″ when fully extended, it can be collapsed to just 11″ when not in use.
The umbrella features a double canopy design with a mesh insert for optimum ventilation and stability. The outside material blocks harmful UV rays while the umbrella's underside reduces glare.
The ergonomically designed soft-grip handle makes this umbrella comfortable to hold, even for long strolls in the sun, while the push-button that auto-opens and closes the umbrella makes it easy to use. This umbrella is made with corrosion-resistant fiberglass ribs and spreaders, allowing it to withstand high winds and moisture without breaking or bending out of shape.
This sun protection umbrella comes from the well-regarded Coolibar brand and also comes in several different colors, allowing you to add a flash of color!
2. G4Free 68-Inch UV Protection Golf Umbrella
The G4Free 68 Inch UV Protection Golf Umbrella is an extra-large 68″ umbrella that's large enough to provide protection for two people or more.
With a sturdy fiberglass frame and 8 rib construction, this umbrella is tough enough to withstand rain and wind in addition to UV rays. This big golf umbrella comes with a silver coating fabric that reflects heat to help cool as well as safe from the sun.
The automatic open system allows you to open the umbrella with just one click of a button. It also features an ergonomic grip handle for easy carrying, and includes a matching storage bag.
3. Sport-Brella Versa-Brella SPF 50+ Adjustable Umbrella with Universal Clamp
The Versa-Brella SPF 50+ Adjustable Umbrella with Universal Clamp is the ideal shade canopy umbrella for golfers, beachgoers, campers and outdoor enthusiasts.

This versatile adjustable umbrella features a 4-way, 360-degree swivel and 2 push button hinges that allow it to be adjusted to any angle, allowing you to customize the umbrella's angle to provide maximum shade, no matter the time of day.
The umbrella's unique clamp can be attached to a variety of surfaces including square tubing and tubular frames. The universal clamp provides a secure hold on golf bags, strollers, beach chairs, etc. making it a great umbrella for lounging during stationary activities.
When not being used, this umbrella folds into a compact carrying case that weighs only 1.8 pounds.
This angle-adjustable umbrella is available in two different sizes as well as eight different bright and fun colors and patterns!
4. Sport-Brella Premiere UPF 50+ Umbrella Shelter
The Sport-Brella Premiere UPF 50+ Umbrella Shelter for Sun and Rain Protection is the ultimate in outdoor comfort.
This umbrella provides an 8-foot wide canopy of sun and rain protection that sets up in seconds, providing a shaded area large enough for a picnic.
The umbrella has two side panels that fold down for more shade coverage, or can be clipped and stowed away when not needed. It even has zippered windows that allow for additional airflow as well as internal pockets to store your keys, phone, etc!
This sun protection shade umbrella includes a 1.25 inch center pole with an integrated tilt mechanism that allows the angle of the umbrella to be adjusted as needed. The oversized auger bit includes a twist handle that easily and securely anchors the umbrella in sand, grass, dirt, or wherever you need sun protection.
When packed away, this umbrella can be stored in its included zippered storage bag that, when packed away, weighs 8 lbs.
This sun protection umbrella kit also includes the carry bag, stakes, and guy lines.
5. Sharpty Inverted Umbrella
The Sharpty Inverted Umbrella is a durable, lightweight umbrella primarily designed to protect against the rain, but functioning well for UV sun protection as well (despite not having a recorded UV rating).
What makes this umbrella unique is its inverted design, which allows the umbrella to fold from the inside-out, making it much easier to use when exiting the car or a narrow area.
The double-layer canopy design provides extra protection from strong winds and sun, while the unique c-shaped handle offers a more comfortable grip.
We especially love that this umbrella comes in 16 different colors and patterns, allowing for some fun deviation from the standard drab umbrella designs.
6. Wondershade Ultimate Portable Sun Shade Umbrella
The Wondershade Lightweight Adjustable Instant Pop Up Sunshade is a great sun shade option for the beach or pool. This umbrella stands at 8 feet tall and has a 60″ diameter when fully opened.

The telescoping, tripod base adjusts from 3 feet to 8 feet tall with the push of a button, while the patented tilt feature allows you to adjust your umbrella to block out more sun by choosing the perfect angle.
This pop-up canopy umbrella also comes with two cup holders and two s-hooks to keep the umbrella firmly on the ground.
Plus, the Wondershade can be easily collapsed and stored in a carrying bag for easy transport, weighing about 10 lbs when packed up.
Are Umbrellas a Good Source of Sun Protection?
UV radiation is a major risk factor for skin cancer, including melanoma. It's important to protect the delicate skin on your face, head, hands, and arms from UV radiation.
The umbrella can be used as a method of easy sun protection that protects these vulnerable areas especially well. It's an especially great alternative for running errands or short walks when you don't feel like applying sunscreen and forgot your sun hat.
However, it's worth noting that the umbrella cannot block all UV exposure, and won't provide the same amount of protection as sunscreen or UPF clothing would. Still, you'll still be getting a solid amount of sun protection by using a sun umbrella, and it's a much faster and easier method of protection.
Using an umbrella for sun protection is much better than being outside with no sun protection at all. If you feel like more coverage is needed, try using sunscreen on exposed areas or wearing long-sleeved shirts and pants.