Choosing an appropriate sun hat well-suited to your activity (whether that means playing a set of tennis or lounging in the sand) is key for good sun protection and happy hat-wearing!
Today we'll take you through some of the essential factors and elements to consider when choosing a sun hat.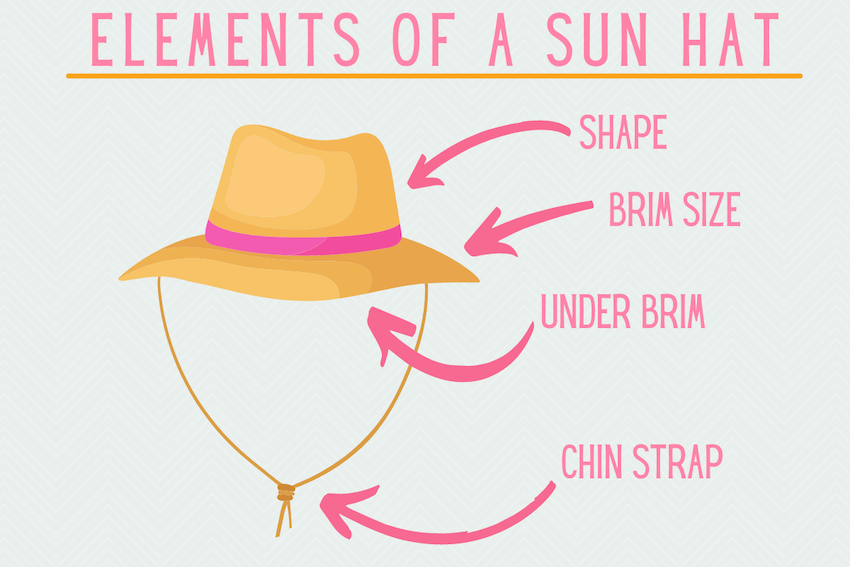 What to Consider When Choosing a Sun Hat
Brim Size
The longer the brim of your sun hat is, the more protection you'll have, so opt or a wide-brim hat when you can. We recommend a hat brim of at least 3 inches, although many of the best sun protection hats have an even longer brim!
While there are some great men's bucket hats with decent brim size, it's often the women's sun protection hats that boast the longest brim lengths, with some as long as 4-5 inches!
Shape
Ideally, you'll want to seek out hats with brims that curve dog and sit closer to your face, as this design protects better against reflected UV light.
A straighter, less curved hat brim (like those common in baseball caps and running hats) can potentially allow dispersed or reflected UV to still bounce up underneath the brim and hit parts of your face.
Flaps and Panels
Some sun hats have extra side flaps and panels that hang down to better protect your face and neck. It's especially common to see UV sun hats with longer brims at the neck or flaps hanging down at the back to protect the back of your neck, which is a susceptible spot for burns!
Ventilation
If you'll be wearing your sun hat for an extended period of time — like on a long hike or during a lengthy round of golf in the summertime — it's important to consider how well-ventilated your sun hat is. Mesh material panels can help when it comes to keeping cool by providing some airflow.
Under Brim
Also consider the material and design of the hat's under brim. Hats with darker under brims can absorb more of the reflected UV, providing better protection. It's not unusual to see sun hats with colorful, patterned UV-absorbing material under a hat's brim.
Built-In Sweatband
Many activity-based sun hats (like golf sun protection hats) have a sweatband built into the cap of the hat, which can help absorb some of your perspiration. It may not be a necessity for beach lounging, but it can be handy for any kind of extra-curricular activity where you'll need a hat.
Material & Construction
There are many different types of materials used in the construction of sun hats. A wide-brimmed hat made from natural fibers like bamboo or straw can be a bit more breathable than heavier materials like wool or polyester.
Also, consider how well your sun hat is constructed — better quality hats will typically have stronger stitching to hold up better over time.
Chin Strap
Many UV hats have a chin strap included, which can help keep your sun hat on your head in windy conditions or inclement weather.
Moisture-Wicking
A lot of popular sun hats will offer moisture-wicking capabilities. Moisture-wicking technology works to move sweat from the surface of your skin during physical activity with special fibers that absorb excess perspiration and move it to the outer end of the material, where it evaporates off. It's an especially popular feature in men's sun protection hats.
Moisture-wicking properties can keep you a lot more comfortable in situations where you'll sweat a lot, and can also keep you feeling cooler.
UV Protection
Of course, the most important feature to consider when shopping for a sun hat is the type and amount of UV protection it provides. Always read the label on your hat tag to ensure you are getting the level of protection you need — usually you'll want UPF 50+, which means 98%+ of all dispersed or reflected UV rays will be blocked by your hat.
Adjustable Sizing
Make sure your sun hat fits properly — hats with adjustable sizing are the most versatile and will fit everyone! Some bucket-style sun hats feature an adjustable drawstring cord on the brim of the hat that allows you to loosen or tighten the brim as needed so that the hat can provide a snug fit regardless of your head size.
---
Are there any other factors you consider when choosing a sun hat? How do you pick the best sun hat for your specific needs? What type of hat is your favorite for blocking UV rays? We'd love to hear your thoughts in the comments!