If you're looking to keep your skin healthy and protected this summer, there are a lot of tools and products you can use. Sunscreen and sun-protective clothing are some of your best, most reliable choices, but those aren't the only options for outdoor protection against UV rays.
There are natural sources of sun protection that many people don't think about! Here are 12 sources of natural – yet still effective – sun protection.
1. Trees and Large Plant Leaves
Plant leaves can provide protection from UV light. The original umbrella, large trees and plants have long been utilized to provide natural shade and relief from the sun on hot, scorching summer days.
2. Umbrellas
Umbrellas offer some of the same benefits that plants and trees do – protection from UV rays when outdoors. However, umbrellas are much easier to control and relocate as needed.
Sun protection umbrellas can vary in terms of size and shape.
Larger umbrellas are great for staking in the sand at the beach or in the dirt at an outdoor festival, while smaller portable umbrellas can be carried while strolling around town.
3. Tents
Tents are a great option for anyone who's camping outdoors. They offer protection from UV rays just like umbrellas do, in addition to keeping out bugs.
In addition to traditional camping-style tents, there are also pop-up shade tents specifically designed to provide shade coverage at the beach or while hanging outside.
4. Canopies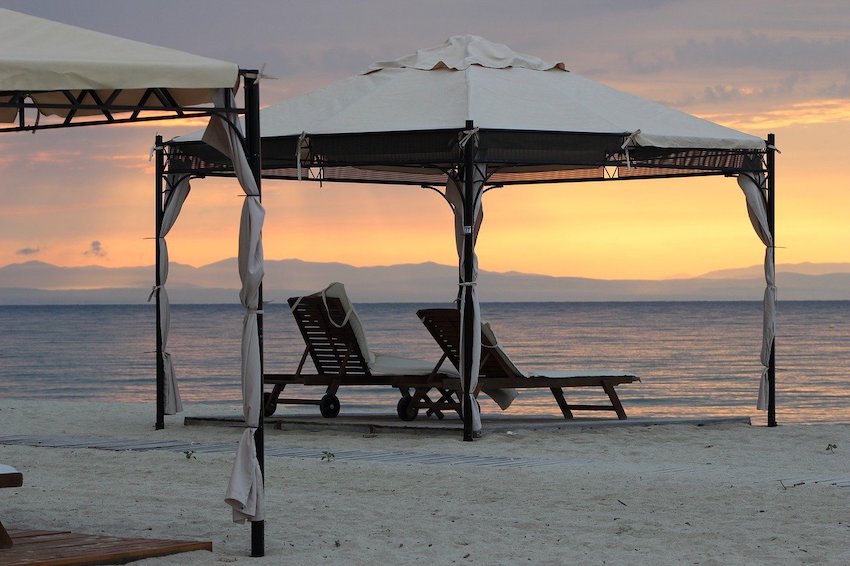 Canopies are also helpful in blocking out ultraviolet light from reaching you if there isn't much natural shade overhead. Canopies can be placed over patios or installed in a yard to provide outdoor shade coverage for larger spaces.
5. Awnings
Awnings can be used to provide shade for windows in your home, or to cover a patio when you're hosting guests outdoors. They are also fairly easy and quick to put up – just pop them into place and they'll stand by themselves!
6. Sail Shades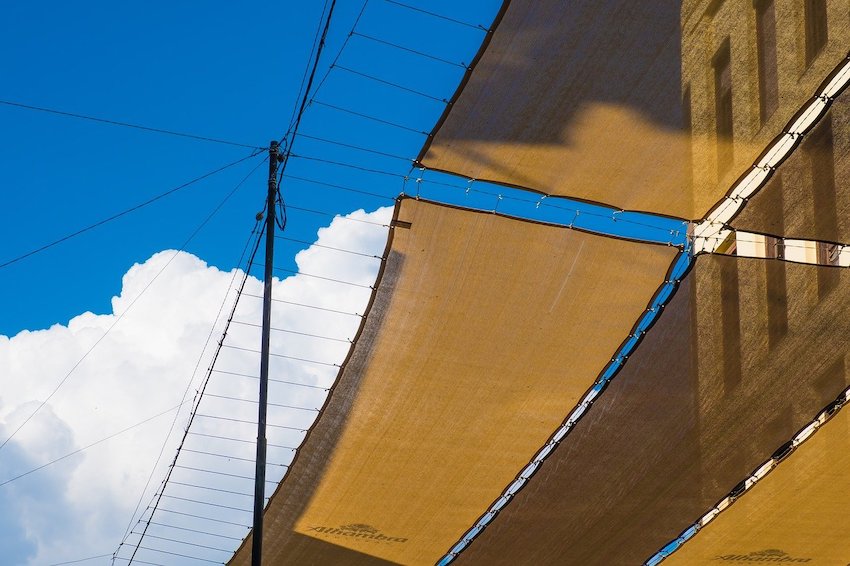 Sail shades are a variation on the standard canopy or awning but are ultra-affordable and fairly easy to install yourself. Sail shades utilize wind and string or wiring to stay upright, floating above you to provide some great natural outdoor shade! Sail shades come in square, rectangular, or the popular triangle shape. You'll commonly see them used at outdoor cafes or restaurants, and they provide a nice ambiance many folks enjoy!
7. Clothing
Long-sleeved clothing is another great way to protect against UV rays. Even standard, non-UPF-rated clothing is better than nothing! However, UPF-rated sun protective clothing is best since you won't have to worry about any sun getting through and potentially burning your skin.

For the best coverage, you'll want to choose long-sleeved UPF clothing options that are specifically rated with UPF 50 or higher.
8. Hats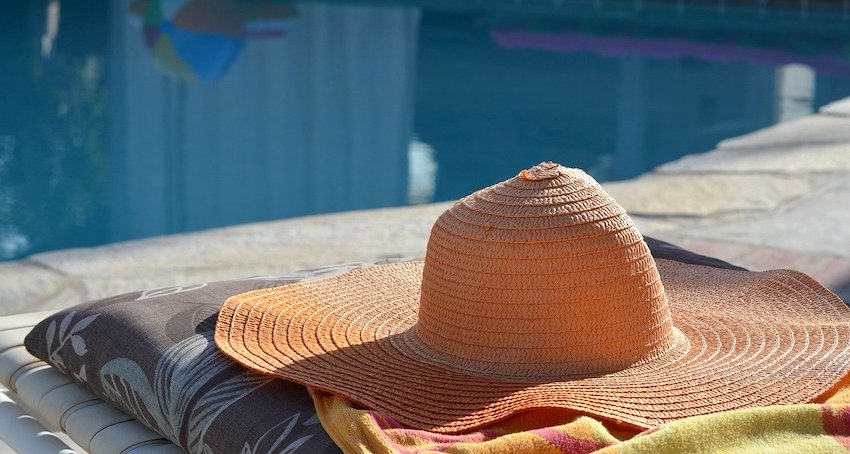 Hats are a handy natural way to protect your head, face, and sometimes your neck too! They also protect your eyes from the sun's glare if you're not wearing sunglasses.

Hats are a great fast and easy method of sun protection since you can easily keep one handy in your car. Some hats are even foldable and can fit into a purse or pocket for extreme portability!
Of course the downside is that sun hats don't offer any sun protection to arms, legs, or anything past the top of your neck, so you need to supplement with sunscreen or long-sleeved clothing.
9. Olive Oil & Sunflower Oil
Olive oil and sunflower oil have been used as natural topical sunscreens by indigenous people for generations. Unfortunately, these oils have very low UPF ratings – somewhere around 7-8 – so while they were certainly better than nothing when modern sunscreen was unavailable, they are likely not strong enough to protect you from today's harmful UV rays that are even more powerful due to our depleting ozone layer.
---
It doesn't matter if you're looking to protect yourself against sunburns while lounging on your back porch this summer or want natural shade coverage to protect your guests during an outdoor party – there are plenty of natural sources of sun protection that will work well!
Keep in mind that these won't provide protection from UV rays like sunscreen or sun-protective clothing will, but they are still a solid option for many sun-weary people.