Today we're reviewing a piece of sun protection clothing – the Baleaf Zip-Up Long-Sleeved UPF Hoodie. There are a lot of questions surrounding the Baleaf brand, so we'll explore those as well as review their zip-up hoodie to determine if it's tough enough to protect you from those extra-harsh UV rays.
Let's start with the clothing review!
Baleaf Sun Shirt Review
The Baleaf Zip-Up Hoodie Sun Shirt is a pretty solid pick. For one, it's boasts a solid SPF50 rating which is really all you need. And on top of that, I absolutely love the color.
Most affordable sun shirts only come in white, grey, and maybe one or two other bland colors. But this zip-up long-sleeved sun shirt comes in eleven colors (yup, you heard that right), with some really nice, lovely pastel shades like blue, purple, pink, and green.
They've even added some newer tie-dye colors that super cool.

The blue zip-up cover-up I received is actually an even deeper shade than what's shown online, and it really looks great. The color had held up in the wash too, although I've avoided putting it in the drier (as a sun shirt, it dries quickly anyway).
The thumb holes are a nice added touch for when you want to protect your hands from some extra-strong rays, and the pockets are a welcome convenience. Who doesn't appreciate pockets?
I'll admit I haven't really made use of the hood much, but I personally just feel that the hooded design looks better. And as a zip-up, it can be really versatile – you can zip it up all the way for full-body coverage, or leave it half-zipped when you want a little more air.
Regardless, it never seems to get hot under the light material – I used this zip-up hoodie on a river floating trip on a tube and actually felt more comfortable with this long-sleeved layer on rather than off. And it does indeed dry quickly – I dunked myself in water a few times and the shirt seemed to dry within 10 minutes, if not sooner!
Best of all, this sun shirt is budget-friendly. Most of the big-name UPF clothing brands are pretty pricey, and Baleaf clothing is a real steal compared to other options from Solbari and Coolibar.
At the time of this review, the Balead Zip-Up Sun Protection Hoodie was about $27, which is over a third less than Solbari's lightweight zip-up UPF hoodie.
Overall, we think this hoodie is a solid pick – especially if you're looking for a versatile UPF hoodie that won't break the bank!
Is Baleaf a Good Brand? What's Their Deal?
Baleaf is a sports clothing brand that's been taking Amazon by storm – you've likely seen them if you've ever searched for leggings, beach cover-ups, or cycling shorts.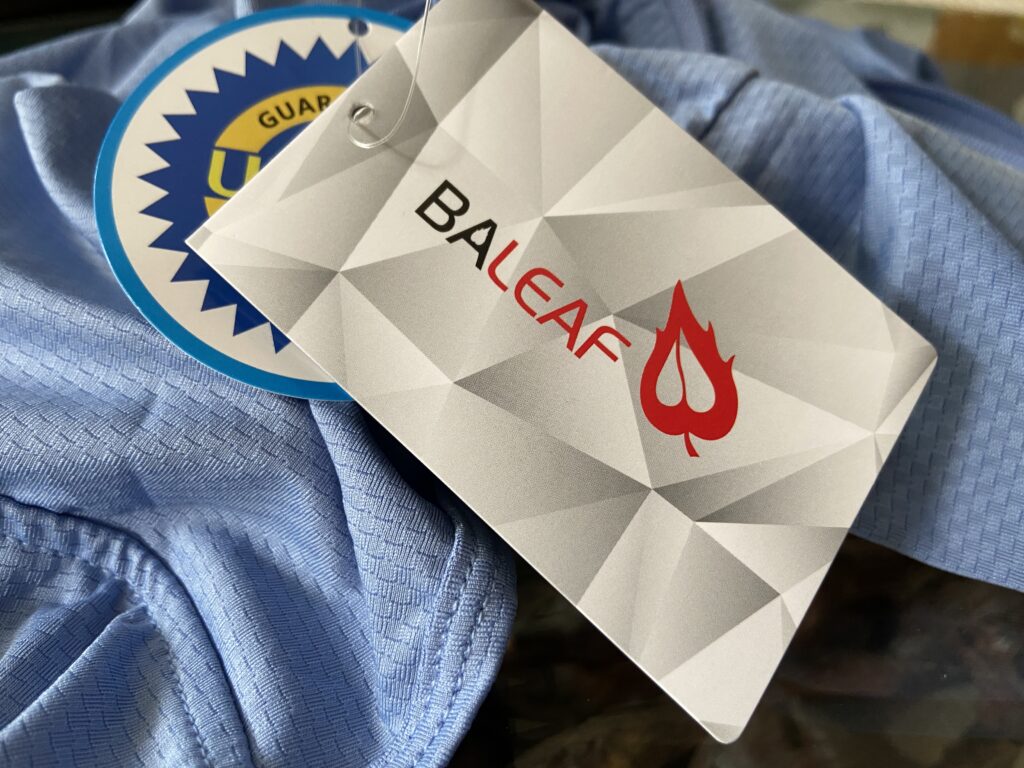 Baleaf is a Chinese-based brand, located in Quanzhou, Fujian, China. The Baleaf company has a total of 500 total employees across all of its locations, and was started in 2006.
It's more legit than most of the other jumbles of letters that make up other Chinese brands on Amazon – Baleaf is far-reaching enough to sell products on Walmart.com as well.
As far as quality, most Baleaf clothing items are made with affordability in mind, so you're likely not getting the creme de la creme in terms of quality. But, their clothing seems to hold up well enough that you shouldn't completely bypass this brand on fears alone.
FAQs About Baleaf
Where is Baleaf made? Where is Baleaf located?
Baleaf headquarters are located in Quanzhou, Fujian, China.
Is Baleaf owned by Amazon?
No, Baleaf is a brand owned by Baleaf (Quanzhou) Sports Goods Co., Ltd
Is Baleaf a Chinese company?
Yes, Baleaf is a Chinese company operating out of Quanzhou, Fujian, China. They sell sports clothing on Amazon as well as through a few other online retailers.
Baleaf Sun Shirt Review