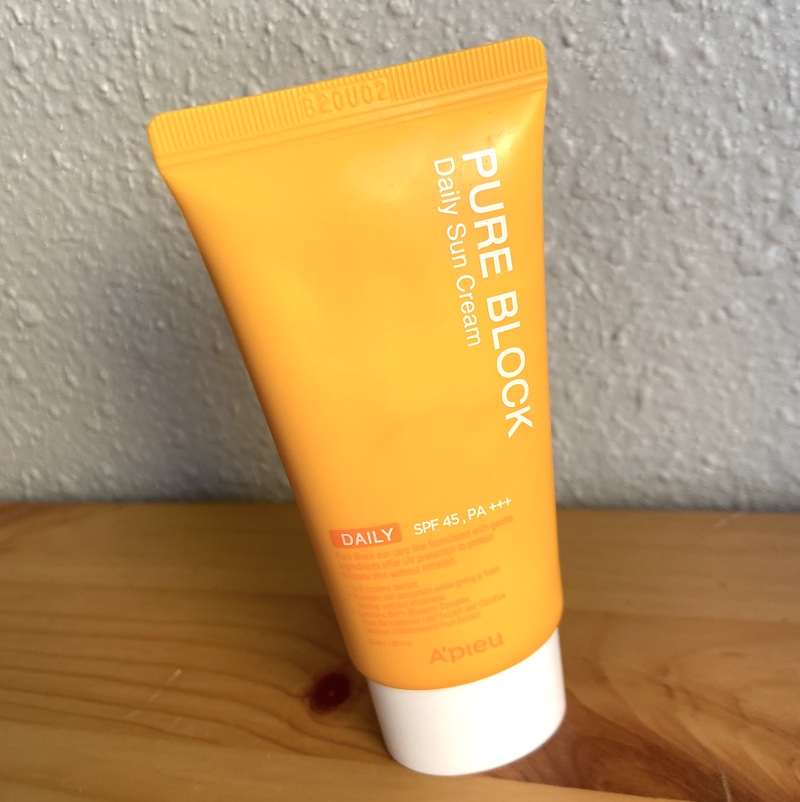 A'Peiu Pure Block
Sunscreen Type: Chemical
SPF: 45
PRICE: $
HIGHLIGHTS: Affordable, lightweight, goes on smooth, no white cast
drawbacks: not waterproof or sweatproof – not ideal for swimming or sports
A'Pieu Company Background
A'pieu is the sister brand to much-beloved Korean brand Missha. They offer an array of skincare, makeup, and makeup tools, with a focus on affordability and catering specifically to young women in their 20s.
Our Tester's Review
Our tester for this sunscreen has sensitive skin, and she's reported struggling with irritation and breakouts in the past with other sunscreens, even with brands like Neutrogena that are generally geared for sensitive skin users.
Our tester liked this sunscreen a lot! She said it feels great on the skin and goes on very nicely. She reported that the sunscreen leaves a slightly dewy finish. This reviewer actually prefers a more matte finish, but she says that the sunscreen dried quickly for a lotion, and performed perfectly underneath her foundation makeup.
Consistency / Feel
This creamy lotion sunscreen goes on smooth and easy, blending into the skin and spreading quickly. Despite the high 45 SPF rating, it feels extremely lightweight on the skin and even provides some mild moisturizing effects. Some users even report that it helps with oil control!
Korean sunscreens are often well-known for having a lightweight, non-greasy feel (especially when compared to the standard sunscreen you find at US drug stores and pharmacies). This formula is no exception, boasting a light, non-oily texture with a skin-cooling effect.
While the sunscreen isn't sticky and glides smoothly, it does have a soft, dewy finish that leaves a slight sheen.
Since it doesn't contain alcohol, it's a better choice for those with dry skin than the gel version.
Scent
This sunscreen has a light citrus scent that smells very refreshing! Fragrances can be an issue for some people with sensitive skin, but again, we find that Asian sunscreens tend to have much gentler fragrances that are less problematic for the skin.

This sunscreen's citrus scent is light and subtle, and fades quite quickly after application. Event those with sensitive skin prone to irritation don't tend to have an issue with this fragrance.
A'Pieu Daily Ingredients
Since A'pieu Pure Block Daily is a chemical sunscreen, it relies on chemical filters rather than physical filters. Chemical filters can cause irritation for those with sensitive skin, but most sunscreen wearers find that Asian sunscreens tend to be gentler on the skin than other brands – even when it comes to chemical sunscreens.
The A'pieu Pure Block Daily sunscreen has butyl methoxydibenzoylmethane, which is actually just another name for avobenzone. Not everyone is a fan of avobenzone, but it does tend to be less irritating than other chemical filters like oxybenzone.
And, since this sunscreen is chemical-filter based, it doesn't have any white cast! White cast is a common issue for mineral sunscreens, and this lotion has none of it. It fades into the skin quickly and leaves no white cast at all.
This sunscreen also has several notable ingredients including:
Aloe Vera, Watermelon (Moisturizing agents)
Six flower extracts, including lime flower extract
Sorbitan Olivate and Sorbitan Isostearate (emulsifiers)
Tocopheryl Acetate (vitamin e)
The full ingredient list reads as follows:
WATER, ETHYLHEXYL METHOXYCINNAMATE, ETHYLHEXYL SALICYLATE, BUTYLENE GLYCOL, PHENYLBENZIMIDAZOLE SULFONIC ACID, BIS-ETHYLHEXYLOXYPHENOL METHOXYPHENYL TRIAZINE, CAPRYLIC/CAPRIC TRIGLYCERIDE, BUTYL METHOXYDIBENZOYLMETHANE, METHYL METHACRYLATE CROSSPOLYMER, GLYCERYL STEARATE, CITRUS AURANTIFOLIA (LIME) FLOWER EXTRACT, CETEARYL OLIVATE, SEA WATER, PRUNUS PERSICA (PEACH) FLOWER EXTRACT, CETEARYL ALCOHOL, NYLON-12, SORBITAN OLIVATE, PYRUS MALUS (APPLE) FLOWER EXTRACT, POLYACRYLATE-13, SODIUM HYDROXIDE, DIMETHICONE, MALPIGHIA EMARGINATA (ACEROLA) FRUIT EXTRACT, CAPRYLYL GLYCOL, PANTHENOL, POLYISOBUTENE, PEG-100 STEARATE, ETHYLHEXYLGLYCERIN,TOCOPHERYL ACETATE, GLYCERIN, PUNICA GRANATUM FLOWER EXTRACT, FRAGRANCE, SORBITAN STEARATE, DISODIUM EDTA, ROSA DAMASCENA FLOWER WATER, PRUNUS AVIUM (SWEET CHERRY) FLOWER EXTRACT, CITRUS AURANTIUM DULCIS (ORANGE) FLOWER EXTRACT, POLYSORBATE 20, 1,2-HEXANEDIOL, BHT, SORBITAN ISOSTEARATE, PROPYLENE GLYCOL, PHENOXYETHANOL, CITRULLUSLANATUS (WATERMELON) FRUIT EXTRACT, POTASSIUM SORBATE, CITRIC ACID, SODIUM BENZOATE, ALOE BARBADENSIS LEAF EXTRACT, ORYZA SATIVA (RICE) BRAN EXTRACT, EUCALYPTUS GLOBULUS LEAF EXTRACT, LIMONENE, LINALOOL, BUTYLPHENYL METHYLPROPIONAL
Sunscreen Performance
Similar to our own tester's experience, other customers also report that this sunscreen performs very well in terms of sun protection as well as application. It's reported to go over moisturizer without any pilling, and plays nice with makeup too.
However, there have been several users who have reported that this sunscreen can sting one's eyes if it gets too close to the eye area. This is largely due to the fact that this sunscreen is not sweat proof or waterproof, which means it has the potential to spread, especially if it's a hot day where you're sweating profusely and rub your eyes.
For this reason, A'pieu Pure Block Daily is really only suitable for days where you'll be inside most of the time or running errands – it's not a great pick for the beach or when engaging in rigorous sporting activities!
Overall Rating: We Love It!
A'Pieu Pure Block Daily gets a 5/5 rating from us! We love how nicely it goes onto the skin, how smooth and hydrating it feels, and how quickly it absorbs. While chemical sunscreens don't always work well for sensitive skin types, Korean sunscreens tend to be the exception, and A'Pieu Daily fairs great even with individuals who are prone to irritation from most chemical sunscreens.
It's not waterproof and sweatproof, but this really isn't an issue if you're just using this sunscreen for regular protection as you go about your day working, running errands, or grabbing coffee. For a trip to the beach or a hiking trip, we'd recommend something a little more heavy-duty! But for an average day, A'Pieu Pure Block Daily is an excellent choice.
---
A'Pieu Pure Block Daily Sunscreen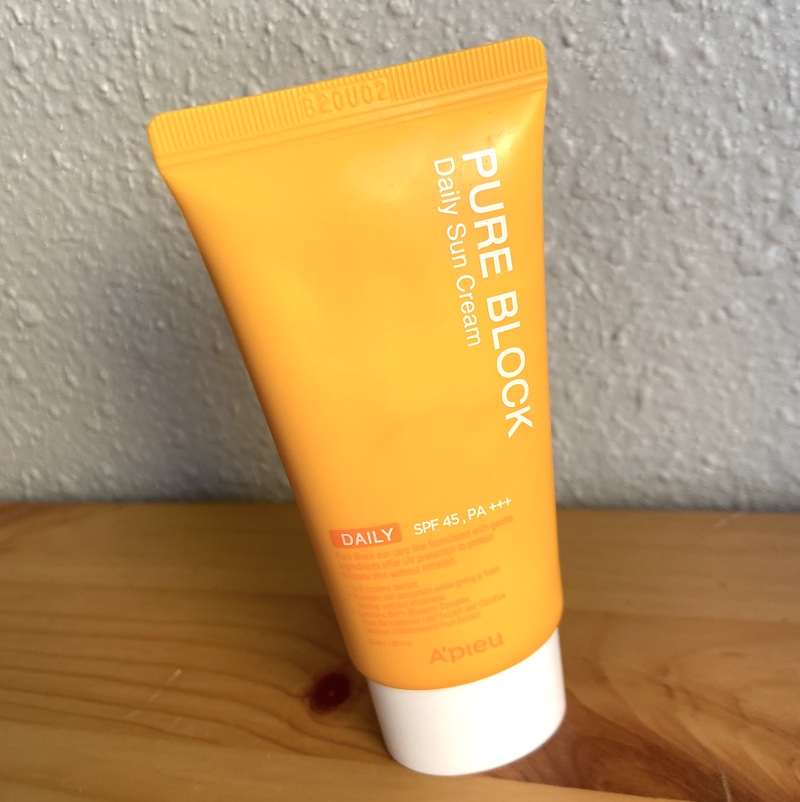 We're reviewing A'Pieu Pure Block Daily Sunscreen, a smooth, lightweight sunscreen lotion that's ideal for going to work and running errands.
Product In-Stock: InStock